Fortescue Metals Group (FMG) operates a diverse roster of motive power on its heavy haul railway which has consisted of:
15 General Electric Dash 9-44CW or Dash 9 locomotives, 001-015;
4 Electro-Motive Division SD90MAC-H2 locomotives, 901-904;
5 Electro-Motive Division SD9043MAC locomotives, 905-909;
21 Electro-Motive Diesel SD70ACe/LCi locomotives, 701-721;
10 Electro-Motive Diesel SD70ACe-P6 locomotives, 722-731;
8 Electro-Motive Division SD90MAC-H2 locomotives, 910-917 - all stored;
8 General Electric 2nd hand ex BNSF Dash 9-44CW or Dash 9 locomotives, 016-023;
4600 ore waggons operating in married pairs 2002 up Control Cars, 1001 up Slave Cars, built in China by CSR at Zhuzhou Rolling Stock Works onwards from 2007;
1736 ore waggons in married pairs built by CNR QRRS Qiqihar Railway Rolling Stock Co. Ltd in Nov 2010 to 2012;
35 ballast waggons 100t capacity, BH 01-35, built in China by CSR at the Yangtze Rolling Stock Company in 2008;
30 tank waggons 95,000 litres capacity, TK 01-30 across two orders of 12 in 2008 and then 18 in 2012;
19 flat waggons, capacity 56t for Rail Train, RT 01-19;
10 side dump ballast waggons, 82.4t capacity, SDC 01-10 built in Ohio USA by JK-CO in 2012;
6 flat waggons with 100t capacity, F01-F06, built in China by the Yangtze Rolling Stock Company;
2 ballast plough waggons, BP 01-02 built in 2010 by CSR at Yangtze Rolling Stock Company.
The GE Dash 9-44CW or Dash 9 locomotives are rated at 3270 kilowatts or 4400 horsepower and are similar to Hamersley Iron / Pilbara Rail-Iron locomotives except for bogies, underframe and fuel tanks all being painted black. Build date for the fifteen units is August / September 2007, serial numbers being: 58178 (001) to 58192 (015) and were the last Dash 9-44CW units built by General Electric.
Loco 012 is named Peter Tapine.
The four Electro-Motive Division SD90MAC-H2 locomotives (901-904) were originally Union Pacific, then EMD lease units with the 6000 horsepower 265-H prime mover which were prepped and repainted for FMG by NS Juniata Shops and Mid America Car. All were delivered to Australia with the 265-H engine, following entry into service FMG has repowered them locally with the 16-710G3 engine for 4300 horsepower.
The five Electro-Motive Division SD9043MAC locomotives (905-909) are rated at 4300 horsepower, again all were former Union Pacific, then EMD lease SD90MAC-H2 units but rebuilt with the 16-710G3 motor and keeping their original TA22 main alternator and 1TB2830 traction motors by NS Juniata Shops prior to export to Australia.
Twenty one Electro-Motive Diesel SD70ACe/LCi locomotives (701-721), the LCi being Low Clearance international, were built in three orders across 2011 to 2012 with delivery in 2012 and 2013 and are similar in appearance to the BHP units and fitted with the 16-710G3C-T2 motor rated at 4300 horsepower and ride on HTSC-II bogies.
Locomotive 701 wears a red and blue decal and is named T155 after the Team 155 Million Tonne expansion.
Ten Electro-Motive Diesel SD70ACe-P6 units (722-731) were built in 2019 and are standard US 'domestic' units riding on HTCR-4 bogies with a tier 3 16-710G3C-T3 motor at 4500 horsepower with an inverter per axle and were delivered in February 2020 being purchased to replace the eight retired SD90MAC-H2 units 910-917 and for expansion with the Eliwana railway line adding 120 km to the FMG rail system.
Eight Electro-Motive Division SD90MAC-H2, (910-917) were again all former Union Pacific, then EMD leasing 265-H engine 6000 horsepower units which were rebuilt by EMD/Progress Rail's Kentucky shops in Sept 2014 and exported with the H series engine to be replaced by FMG in Australia. The units arrived in December 2014, and all but one were stored in 2015, with 916 holding out till 2018 before being also being stored. All eight are now stored off site near the speedway.
Eight General Electric Dash 9-44CW locomotives purchased off Wabtec second hand as they were returned lease units from the BNSF railroad in the USA. The units were shipped from Norfolk VA to Port Hedland on the heavy lift vessel BBC Emerald and unloaded over the 14th and 15th August 2021. BNSF ordered 217 General Electric 9-44CW units under order number 1893 and these eight units are from that order after they were returned to the lessor and with GECX reporting marks.
They were built between June and September 1998, serial numbers, build month and, original road numbers can be seen on the roster page, link just below.
A Motive Power Roster with all details and full serial numbers etc. can be found here.
Operation of the heavy haul railway from the car dumpers located immediately south of the Herb Elliot Port at Anderson Point, Port Hedland inland to the junction location of Nunna where the Solomon line branches off to the west from the Cloud Break mainline the which continues south east to the area known as the Chichester Hub which serves both the Cloud Break and Christmas Creek Mines.
The mainlines consists of a number of passing sidings or loops and duplicated mainline sections, and totals more than 620 km of 68 kg/m rail fixed to concrete sleepers to support a 40 tonne axle load of standard gauge configuration.
Mainline switches or points are of the 1 in 20 swing nose frog type with both motorised blades and frogs.
Since the original line was built the whole operation has undergone some renaming and major configuration changes.
A new locomotive service centre and fuel waggon loading gantry has been built just south of the Great Northern Highway overpass bridge and called Kanyirri Yard and is located between Thomas Yard and the car dumpers with fuel delivery by road train from Port Hedland.
Thomas Yard, named after the railway extension project manager, from Rowley Yard so named after the original managing director Graeme Rowley, this yard complex is spread over several kilometres of line and includes the locomotive and ore car workshops, the extended marshalling yard, wheel lathe shop, rail flashbutt welding yard and other storage roads and support services compounds.
The railway line has now been duplicated in several places and the new duplicated mainline track now runs from the triple balloon loops for the three car dumpers, which consists of the original dumper and then two newer dumpers in a single building within the original balloon loop heading south past the Kanyirri service yard and then the Thomas marshalling and maintenance yards to the 30 km location of East Turner where it reverts back to single track to cross the East Turner River.
From there it passes the original Barker Siding which is a single ended ballast loading site running north off the eastern side of the mainline at the 43 km and includes a dump point to empty side dump waggons. The ballast was trucked here from the nearby BGC Contracting's Elazac Quarry, now owned by Brookdale.
The first crossing location was originally Chapman Siding (crossing loop) located between the 68 and 72 km, and this has been replaced with a much longer duplicated section of mainline running south from the newer location of Canning at the 54 km to the south end of the original Chapman Siding at the 72 km reverting back to a single mainline to cross a number of creeks and rivers.
Duplicated mainline then starts again at the 94 km, the enlarged location of Durack, an original single ended refuge siding at the 98 km.
This duplicated mainline now runs past the new location of Kanga with double crossovers located at about the 107 km to allow east to west and west to east mainline changeovers and extends past the original Forrest Siding 126-129 km (crossing loop) to the 133 km where once again the mainline becomes a single track to traverse the flyover at the 138 km and the BHP mainline location of Woodstock 148.6 km.
After the flyover there is a 580 metre single ended maintenance siding HSD running south near the 145 km, and then former single ended maintenance siding of Gibb has been converted to a crossing loop of about three and a half kilometres in length running from the south side of the Yule River 153 km to the 157 km.
Again at the 164 km location of Coonaire mainline duplication starts and runs to the junction station of Nunna at the 174.5 km and also the junction for the Solomon line which curves away to the west and crosses the BHP mainline at the BHP location of Spring 186.8 km.
From Nunna, location 174.5 km, the mainline is now two single track branches, one south via Hunter Siding (183-187 km), Summit duplicated section (195-211 km), Morgan (216 km) and Maddina Siding (233-237 km) onto the Chichester Hub of the Cloud Break (approx. 35 km) and Christmas Creek mines (another 50 km). And the other west to Solomon Hub via Avon Siding (191-195 km) with a maintenance spur on the east end, crossing the Great Northern Hwy at the 198 km, then through Bow Siding (234 km) and Capel Siding (259-263 km) with a bank engine spur running west just beyond the 263 km then onto Firetail loadout balloon (299 km), approx. 130 km from Nunna.
The extension south from Cloud Break to Christmas Creek is 50 km and was completed in December 2010, while the new line west to the Solomon Hub and Firetail loadout is approx. 130 km long and was completed in December 2012.
Train Control:
Train Control is located in Perth, and FMG was the first Pilbara operator to have their train control operations located remotely from the Pilbara.
Radio system currently in use is a Tetra based system
Train consists originally back in January 2009 were 200 to 204 cars, with a test rake that was 230 cars, all operating with two locomotives on the point. This has subsequently been increased up to 240 cars. For a number of years three locomotives were utilised on the point of the ore trains but this seems to have returned back to only two.
Banking of loaded trains is carried out using a pair of locomotives and assisting trains in the rear from Cloud Break to Hunter Siding on the Chichester line and from Firetail to east of Bow Siding on the Solomon line.
Waggons are loaded to the axle loading of 40 tonnes, 160 tonnes gross.
Some sightings in Jan 2009, include:
Wednesday 21st Jan, 2009 locos 010 and 015 with the 230 car test rake
Locos 009 and 007 with a loaded 200 car train
Loco 003 port shunter
Locos 013-006 with 204 empty car train
Historical and Construction information:
A radio based train order system was originally the method of safe working over a UHF radio network utilising Proceed Authority's or PA's for short. Track access for gangs and other work groups is done with a TAA or Track Access Authority. FMG, like the rest of the Pilbara operators use single man crews.
Tracklaying was undertaken with work trains using rebuilt ex Robe River and Hamersley Iron ALCo locomotives. GTSA rebuilt them prior to service. Locos are numbered and named as follows :

DR 8401 Jean ex 9426 Robe River CE636R WA143-1, new Alco 251+ engine;
DR 8402 Margaret ex 3007 Hamersley Iron C636R WA135-C-6011-02, rebuilt Alco 251F engine;
DR 8403 Rachel ex 9427 Robe River CE636R WA143-2, Alco 251+ bottom and F series tops; and
DR 8404 Vera ex 3013 Hamersley Iron C636R WA135-C-6040-01.
Attached to the side of the radiator are decals pointing out the following:
Owned by Coote Industrial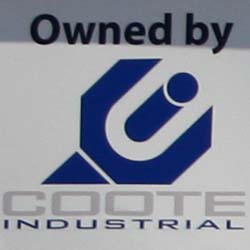 ;
Rebuilt by GTSA Engineering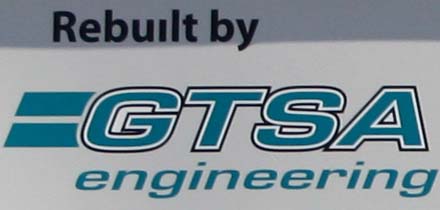 ;
Leased to ARMS (Australian Rain Mining Services)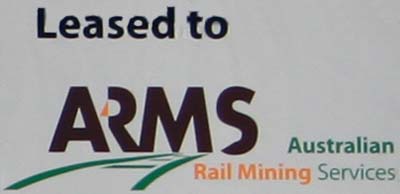 ;
a subsidiary of South Spur Rail Services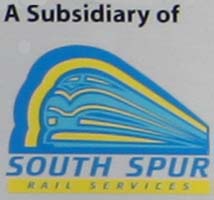 .
Rail and ballast wagons are the same ones used to build the Darwin line. Ballast cars are coded AHBY and these orange ex North Australia cars are complemented by yellow CFCLA CHQY type cars.
Following a field trip to see the track-laying progress in early December the consist of the train was, click here for pop-up.
Track laying was also carried out by hand from Cloud Break heading north towards Hunter Siding. A locomotive TL 154 was trucked over from Melbourne, Victoria, for use on a small ballast train of approx. six cars. This train operated out from Cloud Break as required. The locomotive has since been transported back to Melbourne by road.
Heading south from the marshalling yard, the first siding at the 43.5 km is Barker, and this is the second ballast loading site. It is single ended and 250 metres long, the switch points north, with the siding located on the eastern side of the mainline. Ballast is trucked across from the Elezac Quarry, located next to BHP's mainline near at the 51 km.
The consist of the ballast train is, click here for pop-up.
The first passing loop or siding is called Chapman and runs from about the 68.5 km to the 71.8 km. It's located on the east side of the mainline. Prior to operations commencing there was a rake of ore cars sitting in it 2200 metres long. This siding is visible from BHP's Tabba Siding.

On Thursday the 1st of November 2007, the good ship BBC Kusan commenced unloading the first of FMG's Dash 9-44CW locomotives. The first loco left the port at 0955 hrs, followed by the second at 1150 hrs. Third unit left the port at 1530 hrs. A problem with the tarp allowed a photo of the unit at the Redbank Bridge, after it was removed. Unloading of the locos continued until Sunday the 4th November 2007.
The second batch of wagons was being unloaded over the 6-11th November 2007.
The forth batch is being unloaded off the ship AMAZONEBORG in early January. Some wagon numbers are: 1581 : 2582, 1603 : 2604.
Another load of ore cars has arrived on the 3rd of February, off the ship African Grace.
And with the next shipment due very soon, that will be the completion of the original 816 ore car order.

We've also heard of another 160 ore cars have been ordered. This will bring the total cars close to 1000. The cars are manufactured in China by CSR, in their Zhuzhou Rolling Stock Works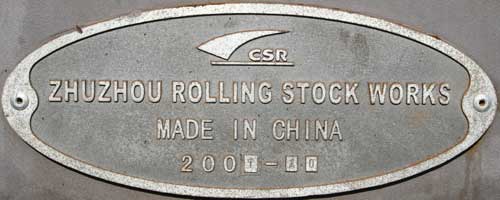 , and are normally shipped from the Chinese port of Zhangjiaga.
Twelve fuel tank wagons are due later in 2008. In late 2012 a further eighteen fuel tank waggons were delivered.

Due to the un-reliability of some of the rebuilt Alco units, FMG locomotives were used on a regular basis hauling the ballast trains. While the Alco locos DR8401 and DR8402 work the 'materials' or rail and sleeper train.
On Tuesday the 5th of February 2008, FMG loco 004 departed Barker Siding with a loaded ballast train (013 on the rear) at 1210 hrs heading to the 104 km to drop ballast on Proceed Authority no. 0685. This was the first such working of FMG locomotives and crews on the construction of the line.
Upon arrival at the 104 km, 1330 hrs, another PA was issued, no. 0686 to allow 004 to drop the ballast as required up to the 112 km.
Once ballasting was completed, PA 0687 was issued to loco 013 at 1508 hrs for the return to Barker Siding to stow.
Section times were: Depart 104 km, 1508 hrs, Chapman Siding 1555 hrs, Indee Rd Xing (48.3 km) 1615 hrs, and arrival and stowed at Barker Siding at 1627 hrs.
On the following day 004 and 013 again worked the ballast train.

On Friday the 8th of February, 2008 FMG locos 006 and 007 did two ballast runs for the day.
On Saturday the 9th of February, 2008 FMG loco 006 worked the materials train to Durack Siding, once cut off and in the siding, DR8402 pushed the train to the construction zone, while 006 worked back light engine to Barker on PA 0797 arriving at 0846 hrs. Which then worked a ballast train south with 007.

By the 2nd of March, 2008, track laying was at the 142.300 km area. Ballast was only a few hundred metres behind. Locomotives were 002 and 011 on the ballast rake. 8401 and 8403 on the material train. Track work was also close to the North West Coastal Hwy crossing and was being laid by hand.

For more information click here for the FMG website.

Click on image for pop up.